Description
Enjoy your spirits in high style with this set of two Diamond Glasses. Each tumbler is designed to resemble a diamond's cubic crystal structure, whose beauty and sparkle has fascinated mankind since the dawn of time.
When placed on a surface, the glasses will comfortably rest on a flat edge of the diamond-like structure. And when in the hand, the glasses will make you look straight-up classy. Try letting it rock back in forth in your hand or on a tabletop to unlock the aromas of your favorite liquor.
Pour yourself some 100-year-old scotch or some bottom-shelf bourbon; either way, you will feel like a million bucks drinking from a diamond.
Material: Borosilicate glass
Capacity: 12oz (354 mL)
Giftboxed
Handwash only
Set of 2
When you're presenting someone with a diamond, you'd better make sure it doesn't come out of a cereal box. Diamond Glasses are tastefully housed in a high-quality paperboard box that opens and closes with magnetic clasps.
Inside the box, the glasses are tucked into a soft, velour-like tray to complete the gift set.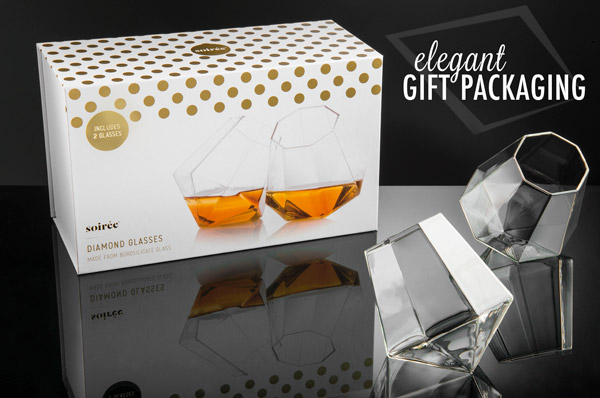 Question: Diamonds are one of the hardest substances on earth. Will these break if dropped?
Answer: While they're shaped like diamonds, the glasses are made of glass and will likely break if dropped from a significant height.
Question: Can I put something other than alcohol in these?
Answer: The answer is yes; these glasses obey the laws of physics.